Staff Handbook
This handbook contains policy and program information that defines the responsibilities of staff members and the University's commitments to staff. Review the Staff Handbook for complete staff employment policies and procedures.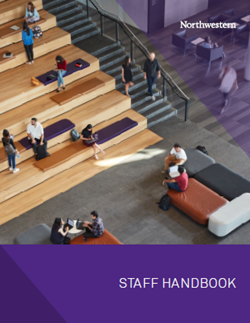 Questions?
Please email askHR@northwestern.edu or contact your Human Resources Business Partner (hrbp@northwestern.edu) with questions regarding the policies and programs within the Staff Handbook.
Attesting to the Handbook
Upon hire, staff members (including Postdoctoral Fellows, Research Associates, and Faculty Librarians) are required to attest that they have received the Staff Handbook. This confirmation of receipt will be retained by the University. Complete the process in myHR
Summary of Updates for 2023
The following key updates are reflected in the 2023 Staff Handbook; for any questions regarding these updates, please contact your HR Business Partner.
Northwestern Values, Diversity (Page 1.2)
Provides updated Northwestern Diversity value and behavior description created in partnership with the Office of Institutional Diversity & Inclusion.
Transfer and Promotion, Service Requirement (Page 2.6)
Clarifies the service requirements to apply and transfer to another position.
COVID-19 Compliance Requirements
Removes the COVID-19 compliance requirement section from the Staff Handbook.

Dress Code/Personal Appearance (Page 3.7)
Notes that any standards of personal appearance and hygiene set by the department or supervisor must be developed and applied in a manner consistent with the University's Policy on Institutional Equity.

Scheduled Holidays (Page 6.1)
Clarifies that staff members must be in paid status to be paid for the holidays that Northwestern observes.

Bereavement Absence (Page 6.8 - 6.9)
Includes the stillbirth or miscarriage of a child as a covered death for Bereavement Absence. Additionally, includes that staff members not eligible for benefits may take the same time allocations outlined under this Absence as unpaid.

Illinois Family Bereavement Leave Act (FBLA) (Page 6.9)
Outlines eligible reasons and the provisions for taking time off under the new Illinois Family Bereavement Leave Act (FBLA).

Compensation (Section 7)
Updated to align to Northwestern's compensation philosophy and practices. For more information, visit the new Compensation website. Additionally, all Northwestern job postings will include a specific hiring pay range for each position posted effective September 1, 2023.

Changing from Full-time to Part-time Status (Page 8.2)
Directs staff members to contact Benefits and their HR Business Partner in advance of changing from full-time to part-time status to understand the implications of this schedule change. For more information, visit the Full-time to Part-time webpage.

Overtime and Lunch Periods (Page 8.2 - 8.3)
Clarifies that non-exempt staff members are paid at a rate of one and one-half times their hourly rate for hours worked beyond 40 in a work week who are not already paid at the premium rate. Aligns these sections to changes in the One Day Rest in Seven Act. This includes requiring that non-exempt staff members have at least 24 consecutive hours off work every consecutive seven-day period, and in a work period of 7.5 hours or more, a meal period of at least 20 minutes beginning no later than five hours after the start of work and additional meal period(s) of at least 20 minutes provided for every additional 4.5 hours worked beyond the initial 7.5 hours.

Employee Assistance Program (Page 9.1)
Includes information on the new Employee Assistance Program SupportLinc and its free and confidential mental health and well-being services.

PerkSpot Discounts (Page 9.3)
Includes information on PerkSpot, a new program that provides discounts from a wide array of nationwide merchants.